Ubuntu 14.04 LTS APM(ariaDB) install 
가상서버에서 Ubuntu OS를 설치한 후 기본설치 APM 설치해봅니다.
Apache + Php5 + Mariadb5로 설치합니다.
putty 로 접속 하는 초기 화면
Connecting to 192.168.0.3:22…
Connection established.
To escape to local shell, press 'Ctrl+Alt+]'.
Welcome to Ubuntu 14.04.1 LTS (GNU/Linux 3.13.0-40-generic x86_64)
* Documentation:  https://help.ubuntu.com/
System information as of Fri Dec 12 15:18:56 KST 2014
System load:  1.5               Processes:           80
Usage of /:   6.8% of 17.59GB   Users logged in:     0
Memory usage: 2%                IP address for eth0: 192.168.0.3
Swap usage:   0%
Graph this data and manage this system at:
https://landscape.canonical.com/
0 packages can be updated.
0 updates are security updates.
Last login: Fri Dec 12 15:18:55 2014
roo@ubuntu:~$ sudo su -l
[sudo] password for userid:
root@ubuntu:~#
Apache2 설치
root@ubuntu:~# apt-get install apache2
패키지 목록을 읽는 중입니다… 완료
의존성 트리를 만드는 중입니다
상태 정보를 읽는 중입니다… 완료
다음 패키지를 더 설치할 것입니다:
apache2-bin apache2-data libapr1 libaprutil1 libaprutil1-dbd-sqlite3
libaprutil1-ldap ssl-cert
제안하는 패키지:
apache2-doc apache2-suexec-pristine apache2-suexec-custom apache2-utils
openssl-blacklist
다음 새 패키지를 설치할 것입니다:
apache2 apache2-bin apache2-data libapr1 libaprutil1 libaprutil1-dbd-sqlite3
libaprutil1-ldap ssl-cert
0개 업그레이드, 8개 새로 설치, 0개 제거 및 3개 업그레이드 안 함.
1,284 k바이트 아카이브를 받아야 합니다.
이 작업 후 5,342 k바이트의 디스크 공간을 더 사용하게 됩니다.
계속 하시겠습니까? [Y/n] y
#service apache2 restart
아파치 기본 화면
Php5 설치
root@ubuntu:~# apt-get install php5
패키지 목록을 읽는 중입니다… 완료
의존성 트리를 만드는 중입니다
상태 정보를 읽는 중입니다… 완료
다음 패키지를 더 설치할 것입니다:
libapache2-mod-php5 php5-cli php5-common php5-json php5-readline
제안하는 패키지:
php-pear php5-user-cache
다음 새 패키지를 설치할 것입니다:
libapache2-mod-php5 php5 php5-cli php5-common php5-json php5-readline
0개 업그레이드, 6개 새로 설치, 0개 제거 및 3개 업그레이드 안 함.
4,860 k바이트 아카이브를 받아야 합니다.
이 작업 후 20.5 M바이트의 디스크 공간을 더 사용하게 됩니다.
계속 하시겠습니까? [Y/n]
Mariadb 설치
root@ubuntu:~# apt-get install mariadb-server
패키지 목록을 읽는 중입니다… 완료
의존성 트리를 만드는 중입니다
상태 정보를 읽는 중입니다… 완료
다음 패키지를 더 설치할 것입니다:
libaio1 libdbd-mysql-perl libdbi-perl libhtml-template-perl
libmariadbclient18 libmysqlclient18 libterm-readkey-perl mariadb-client-5.5
mariadb-client-core-5.5 mariadb-common mariadb-server-5.5
mariadb-server-core-5.5 mysql-common
제안하는 패키지:
libclone-perl libmldbm-perl libnet-daemon-perl libplrpc-perl
libsql-statement-perl libipc-sharedcache-perl mailx mariadb-test tinyca
다음 새 패키지를 설치할 것입니다:
libaio1 libdbd-mysql-perl libdbi-perl libhtml-template-perl
libmariadbclient18 libmysqlclient18 libterm-readkey-perl mariadb-client-5.5
mariadb-client-core-5.5 mariadb-common mariadb-server mariadb-server-5.5
mariadb-server-core-5.5 mysql-common
0개 업그레이드, 14개 새로 설치, 0개 제거 및 3개 업그레이드 안 함.
11.4 M바이트 아카이브를 받아야 합니다.
이 작업 후 118 M바이트의 디스크 공간을 더 사용하게 됩니다.
계속 하시겠습니까? [Y/n]
#mysql_install_db
#mysql_secure_installation
#service mysql restart
Mariadb 와 Php 연동작업
root@ubuntu:~# apt-get install php5-mysql
패키지 목록을 읽는 중입니다… 완료
의존성 트리를 만드는 중입니다
상태 정보를 읽는 중입니다… 완료
다음 새 패키지를 설치할 것입니다:
php5-mysql
0개 업그레이드, 1개 새로 설치, 0개 제거 및 3개 업그레이드 안 함.
62.9 k바이트 아카이브를 받아야 합니다.
이 작업 후 297 k바이트의 디스크 공간을 더 사용하게 됩니다.
받기:1 http://kr.archive.ubuntu.com/ubuntu/ trusty-updates/main php5-mysql amd64 5.5.9+dfsg-1ubuntu4.5 [62.9 kB]
내려받기 62.9 k바이트, 소요시간 0초 (205 k바이트/초)
Selecting previously unselected package php5-mysql.
(데이터베이스 읽는중 …현재 60180개의 파일과 디렉터리가 설치되어 있습니다.)
Preparing to unpack …/php5-mysql_5.5.9+dfsg-1ubuntu4.5_amd64.deb …
Unpacking php5-mysql (5.5.9+dfsg-1ubuntu4.5) …
Processing triggers for libapache2-mod-php5 (5.5.9+dfsg-1ubuntu4.5) …
php5-mysql (5.5.9+dfsg-1ubuntu4.5) 설정하는 중입니다 …
Creating config file /etc/php5/mods-available/mysql.ini with new version
php5_invoke: Enable module mysql for cli SAPI
php5_invoke: Enable module mysql for apache2 SAPI
Creating config file /etc/php5/mods-available/mysqli.ini with new version
php5_invoke: Enable module mysqli for cli SAPI
php5_invoke: Enable module mysqli for apache2 SAPI
Creating config file /etc/php5/mods-available/pdo_mysql.ini with new version
php5_invoke: Enable module pdo_mysql for cli SAPI
php5_invoke: Enable module pdo_mysql for apache2 SAPI
Processing triggers for libapache2-mod-php5 (5.5.9+dfsg-1ubuntu4.5) …
root@ubuntu:~#
php 연동 화면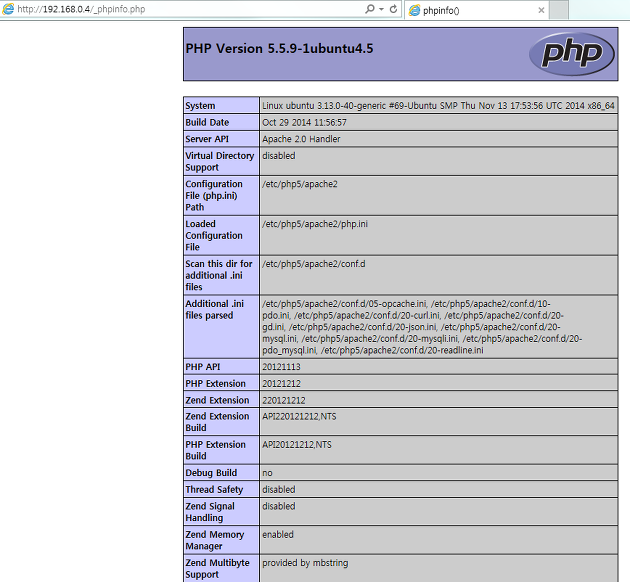 Phpmyadmin 설치
root@ubuntu:/etc/php5/mods-available# apt-get install phpmyadmin
패키지 목록을 읽는 중입니다… 완료
의존성 트리를 만드는 중입니다
상태 정보를 읽는 중입니다… 완료
다음 패키지를 더 설치할 것입니다:
dbconfig-common javascript-common libjs-codemirror libjs-jquery
libjs-jquery-cookie libjs-jquery-event-drag libjs-jquery-metadata
libjs-jquery-mousewheel libjs-jquery-tablesorter libjs-jquery-ui
libjs-underscore libmcrypt4 php-gettext php5-mcrypt
제안하는 패키지:
libjs-jquery-ui-docs libmcrypt-dev mcrypt mysql-server
추천하는 패키지:
mysql-client
다음 새 패키지를 설치할 것입니다:
dbconfig-common javascript-common libjs-codemirror libjs-jquery
libjs-jquery-cookie libjs-jquery-event-drag libjs-jquery-metadata
libjs-jquery-mousewheel libjs-jquery-tablesorter libjs-jquery-ui
libjs-underscore libmcrypt4 php-gettext php5-mcrypt phpmyadmin
0개 업그레이드, 15개 새로 설치, 0개 제거 및 3개 업그레이드 안 함.
5,680 k바이트 아카이브를 받아야 합니다.
이 작업 후 28.7 M바이트의 디스크 공간을 더 사용하게 됩니다.
계속 하시겠습니까? [Y/n]
phpmyadmin 화면
Ubuntu 14.04 LTS 기본 설치 버젼 확인
apache 2.4
php5.5
mariadb 5.5
#apt-get update : 서버 최신 버젼 업데이트
#apt-get upgrade : 기존 설치 패키지 업데이트
#apt-get install apache2 : 아파치 2.4
#apt-get install php5 : php 5.5
#apt-get install mariadb : mariadb 5.5
mysql-server mysql-client php5-mysql phpmyadmin
#service apache2 restart
#service mysql restart